If you're a real estate professional working off of commissions, service fees, returns from flipping properties, or you're building a real estate portfolio, there's one thing that's certain:
You need leads.
However, if you want your marketing efforts to translate to new clients and deals, the type of leads you choose is crucial. Many real estate professionals (investors, agents, property managers, etc.) invest in costly lead lists that are re-packaged and also sent to competitors. Not only does this eat into your budget and take-home pay, but you may also be wasting your time and energy marketing to leads that aren't worthwhile.
To continuously generate leads with a high likelihood of converting into new business, you need a reliable tool to help you understand your local market and uncover the most profitable opportunities.
We have two words for you: PropStream It!
But what is PropStream, exactly?
PropStream is a real estate lead generation software that uses big data, advanced filtering capabilities, intuitive marketing tools, and more to help real estate professionals find leads and convert them into new clients or deals.
Our robust platform is ideal for real estate entrepreneurs of all types, including
Investors
Agents
Brokers
Property managers
Mortgage lenders/loan originators
Contractors
Appraisers
But what exactly sets us apart and makes PropStream an essential tool to have in your belt as a real estate pro? In this post, we will cover the various features and benefits of our platform in depth.
---
Table of Contents
---
Find Property Leads Using An Enormous Library of Multi-Sourced, In-Depth Real Estate Data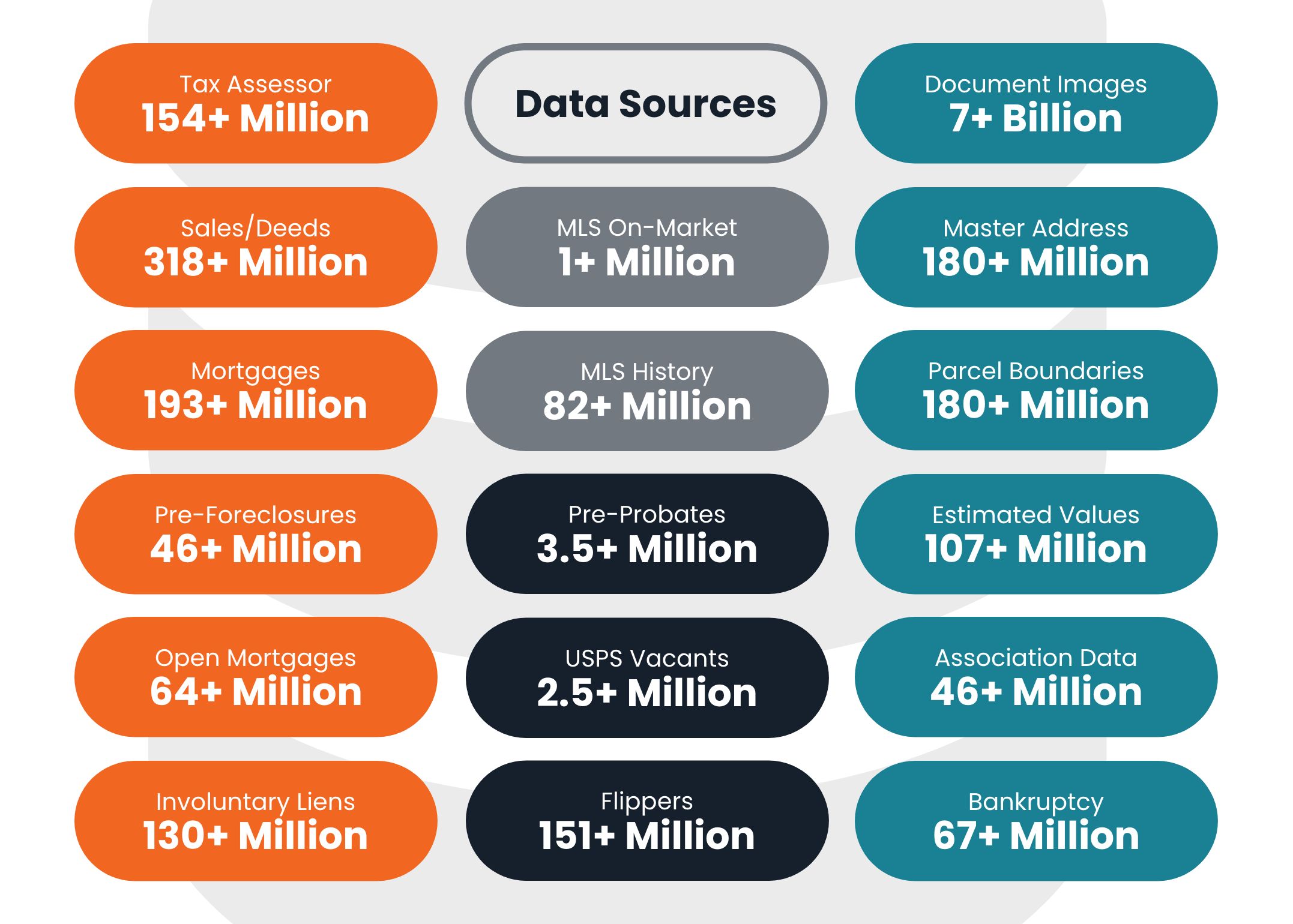 Accessing the most accurate, up-to-date property information is crucial for making informed decisions in the real estate industry, no matter which niche you specialize in.
We offer in-depth property data for over 153 million properties across the United States. Updated daily and multi-sourced from both the MLS and public recordings, our data offers the most comprehensive overview of nearly any property you can think of.
Narrow Down an Exact Location With the Search Bar and Draw Tool
Whether you want to search a broader region or target a specific area, we have the location filtering options you need to find properties quickly.
Search properties by:
City
County
Zip code
APN (Assessor Parcel Number)
Exact address
Geo-location
Need a more specific location than listed above? Like a neighborhood, street, or even side of a street? Our Draw Tool allows you to customize your location search even further.
Use Advanced Filtering Capabilities to Find a Specific Demographic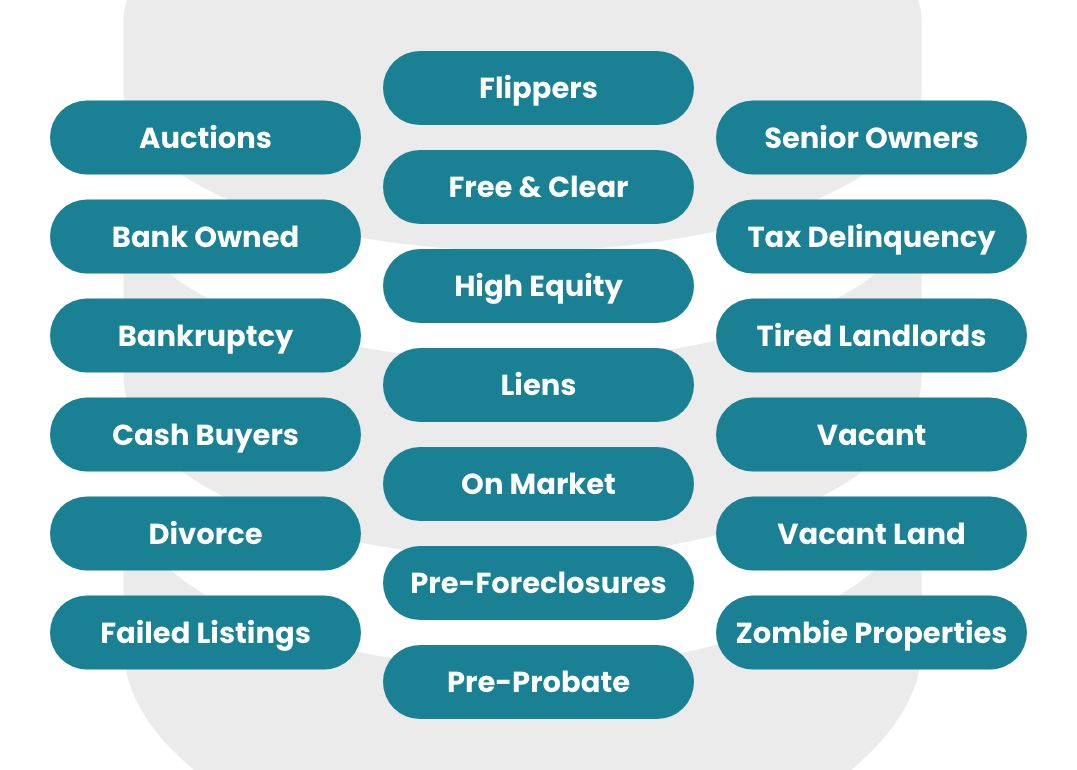 When it comes to finding the best real estate leads for your niche, understanding specific homeowner situations, mortgage information, home features, and more is crucial for narrowing down your results and finding the best prospects as quickly as possible.
Because of this, we offer over 120 unique search filters and 19 Quick Lists to help you find the most exact demographics in just minutes.
With our Quick Lists, you can easily identify homeowners who may need to sell or who may be prime candidates for your services in situations like:
Auctions
Bank-Owned
Bankruptcy
Cash Buyers
Divorce
Failed Listings
Flippers
Free & Clear
High Equity
On Market
Pre-Probate
Senior Owners
Tax Delinquency
Tired Landlords
Vacant
Vacant Land
Zombie Properties
Once you've chosen a Quick List, you can stack additional filters relating to MLS Status, Property Characteristics, Mortgage Info, and more.
Uncover Market Trends at a Glance With the Heat Map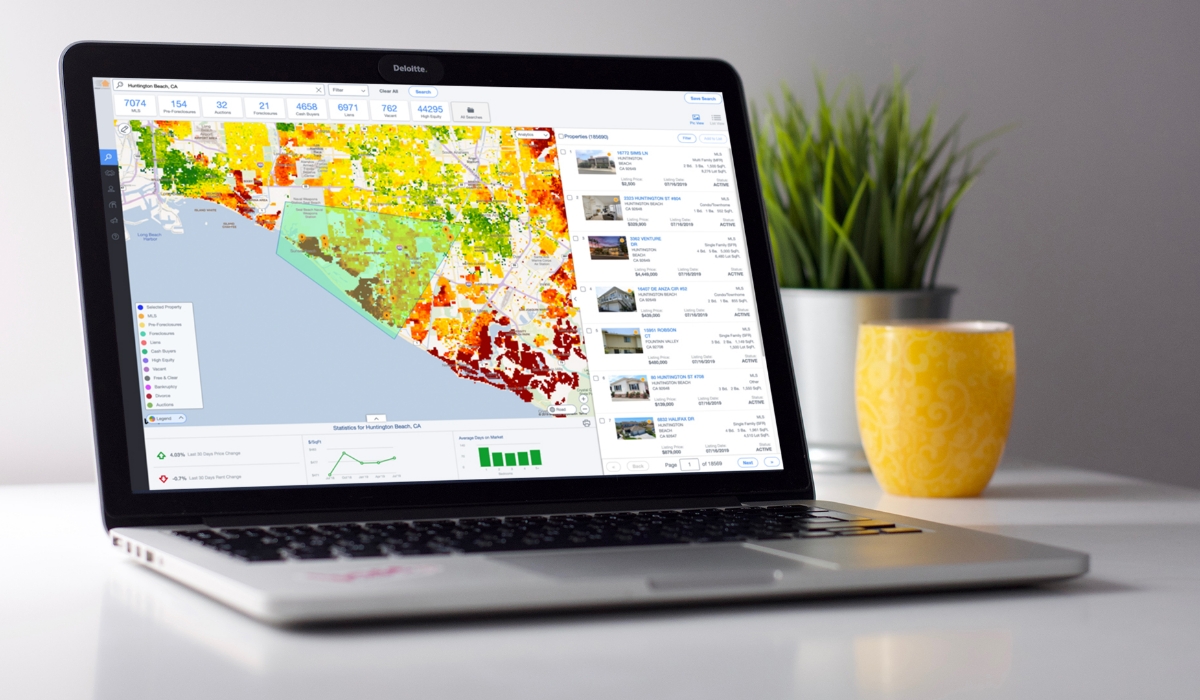 Not all areas are the same regarding potential ROI (return on investment) for investors.
Whether investing in a rental property or selling a flip, you'll want to ensure an area has profit potential before investing too much time into your property search.
Our Heat Maps make this process quick and easy. When you choose a region and apply the Heat Map, you can study trends for that region without having to click on each individual property. Essentially, the Heat Map offers a birds-eye view of factors like Estimated Property Values, MLS Stats, Price Growth, and Rental Values.
Easily Run Comparables Right in the Software
After you've uncovered a hot real estate market, you'll want to ensure specific properties also yield potential before you begin building marketing lists or reaching out to leads.
While a property may seem like an excellent opportunity on paper, without having a true understanding of the property's value, you risk investing in something that will offer little or no ROI. Or, in the worst-case scenario, you may end up losing money on the deal.
With PropStream in your back pocket, you can easily run comparables on a property to uncover an estimated value based on historical data for similar properties.
Pro Tip: By "similar" properties, we're referring to properties with similar square footage, features, year built, properties in the same neighborhood, etc.
To help users get the most accurate estimated value, we offer the ability to run comps using public record data, MLS data, or both.
Estimate Renovation Projects With the Rehab Calculator
Whether you're a flipper, landlord, or another type of real estate professional who frequently needs to perform renovations that will directly impact your profit, our Rehab Calculator is a huge asset for getting accurate estimates quickly.
Before committing to a property or investing anything financially, the Rehab Calculator can help you determine if a property is a good investment. For example, if the cost to perform necessary renovations is higher than what you can expect in return or even causes you to break even, you can walk away from that property before contacting the owner.
To use the Rehab Calculator, choose an area you'd like to renovate, specific projects, material types, and more to get a complete estimate of what the full project will likely cost. This tool is conveniently available on the Property Details page for each property within the platform.
Create Your Own Custom Marketing/Lead Lists
Once you've performed the necessary property research, like analyzing a market, running comps, and estimating renovations, you can begin saving the best prospects to marketing lists.
Organize marketing lists by specific criteria like price, neighborhood, selling motivation, features, etc., to easily find your leads and reach out when you're ready.
For one low monthly cost, you can save up to 10,000 leads per month based on the criteria of your choosing, putting the power of lead generation back in your hands. Not only is this method more cost-effective, but it also allows you to identify property/situational niches and customize your marketing campaigns.
Have Fresh Leads Sent to Your Inbox With List Automator
After identifying niches or demographics you want to pursue, you can stay updated when new leads matching those criteria appear in the platform with the List Automator add-on.
List Automator sends you updates via email about new leads you may want on your radar and leads you have saved that no longer match your designated criteria. List Automator won't automatically remove any leads from your lists for you, it simply delivers relevant lead information to you so you can decide how to adjust your lists.
Obtain Homeowner Contact Information in Minutes With Skip Tracing
Creating solid lead lists is only the first step in landing a new client or deal. Once you know who you want to reach out to, you'll need to collect their contact information.
To help with this, we offer a skip-tracing add-on service to help you collect contact information for entire lead lists in just minutes! No more scouring the internet for outdated phone numbers or scrubbing social media to try and find relevant email addresses.
With each skip trace order, users will have their lists scrubbed at no additional charge to ensure contacts aren't on the DNC (Do Not Call) List. If they're on the DNC List, that will be marked right next to the contact information returned. Additionally, we don't require any order minimums, and your results are conveniently organized in order of relevancy on your "Contacts" page within the platform.
Pro Tip: Want to see a full list of PropStream's skip-tracing features? Check out this blog post!
Built-In Marketing Tools for Easy Outreach
After you've collected contact information, our platform makes outreach easy and convenient with built-in marketing tools.
With PropStream, you can:
Create email campaigns directed toward specific marketing lists
Send postcards (use our professionally-designed templates or start from scratch)
Create a landing page to direct prospects to so they can learn more about you and your services.
When you can collect leads, save them, and reach out in one convenient location, it eliminates the need for multiple systems, saving you time, money, and energy in landing new clients and deals.
Work On-the-Go With PropStream Mobile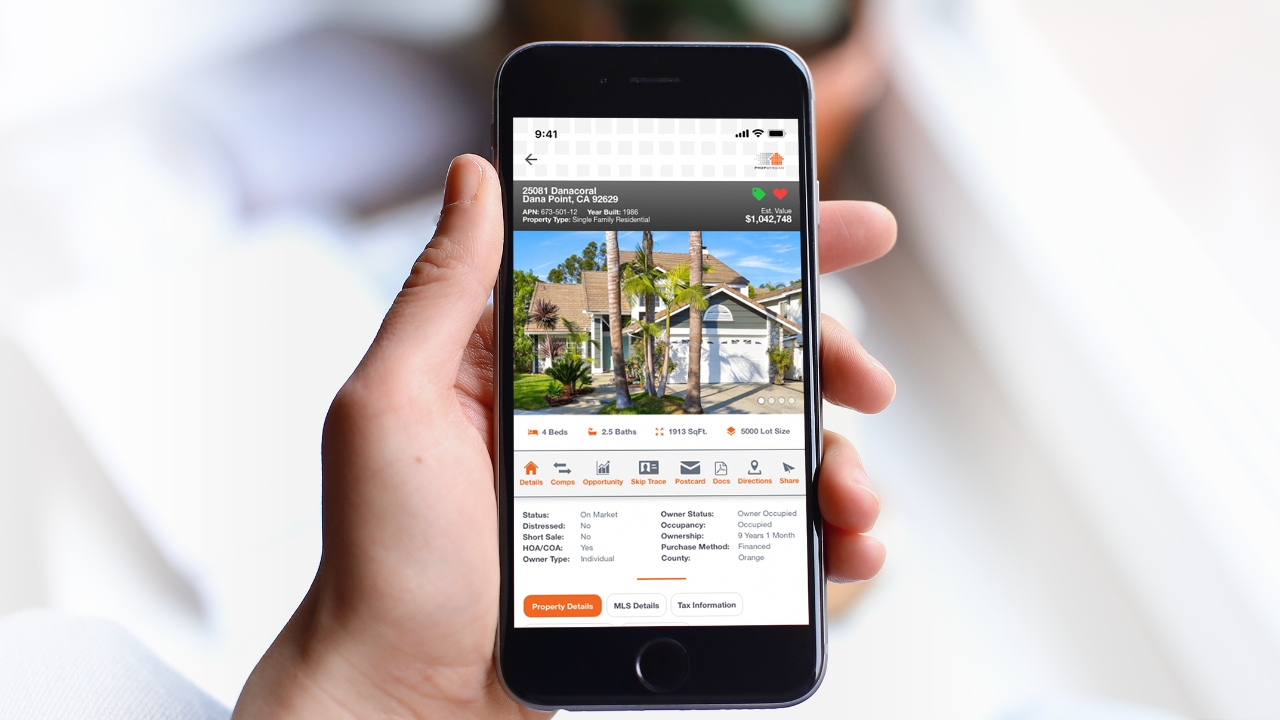 Busy real estate entrepreneurs don't always have the luxury of working from an office or computer.
When you're always on the hunt for new opportunities, you need a flexible way to keep track of them, whether you're in the car, at home, or somewhere else.
Our PropStream mobile app allows users to enjoy many of the same features offered by the web application as well as some unique features available only to mobile, like:
Using geo-location to identify nearby opportunities
The ability to search by address
Saving properties of interest to a marketing list
Skip tracing
Sending postcards
Driving for Dollars (track/record your drives with specific search filters selected)
And more!
Get Your Entire Team Involved With Generating Leads and Researching Properties
Many real estate professionals work with a team, whether you're a broker with a team of agents, an investor working with virtual assistants, or somewhere in between.
When it comes to generating the most leads in the least amount of time, you may need a little help from your teammates.
Our platform makes working as a team seamless, with the account holder able to add team members to the account for an additional monthly fee (scouts are free). The account holder can also set permissions so each team member has personalized access to the features and capabilities necessary for their role.
Continue Your Education With the PropStream Academy
No matter how long you've worked in the real estate industry, there is always more to learn.
At PropStream, we offer a free Academy to help you learn about various hot topics, like finding and generating new leads, direct marketing, and more. We have courses geared towards agents and investors, with our library always expanding to offer helpful information to new demographics.
Each course is self-paced and interactive, so you can learn on your own time with the help of fun videos, quizzes, and exercises to test your knowledge.
Some of our most popular courses are:
15 Minute Leads
Introduction to Wholesaling
Real Estate Directing Marketing 101
In addition to our courses, we offer Live Webinars and Webinar Replays, where our PropStream gurus go through step-by-step tutorials on how to use PropStream's various features.
Stay Up-to-Date With New PropStream Features, Market Trends, and More
Staying on top of what's happening in your current market is essential when you're working in the real estate industry.
At PropStream, we're always updating our social channels, blogs, and video library with new, relevant information to help you stay informed and ahead of the competition. While the Academy is an excellent place to brush up on your real estate knowledge, these platforms are the best place to do some additional learning while you wait for the next course release!
Customer Support is Here to Help
Whether you need guidance on a specific feature, dataset, questions about logging in, etc., our customer support team goes through a rigorous training process so they are prepared and ready to answer your most detailed questions.
To reach out to customer support:
Try PropStream for 7 Days Free
Adding a new software or tool to your belt can be a big commitment. Because we want you to try PropStream on for size before paying for a full subscription, we offer a 7-day free trial to help you understand why PropStream is the best solution for your real estate business.
Psst! To get the most out of your free trial, we recommend visiting our Getting Started page.
See our data and features in action by starting your 7-day free trial today and enjoy 50 leads on us!