Just a few years ago, the short-term rental market experienced explosive growth. Once pandemic-related lockdowns were lifted, people couldn't get out of their homes fast enough, and short-term rentals filled up fast.
But as supply begins to catch up with—and even outpace—demand, real estate investors and analysts are sharing their concerns over the short-term rental market. For example, Nick Gerli, CEO of Reventure Consulting, shared dire-looking Airbnb revenue data on X, formerly Twitter, in late June 2023, saying: "The Airbnb collapse is real. Revenues are down nearly 50% in cities like Phoenix and Austin. Watch out for a wave of forced selling from Airbnb owners later this year in the areas hit hardest by the revenue collapse."
But are claims of a collapse merely doom-mongering? Or is the short-term rental market truly in trouble? Let's take a closer look.
---
Is the Short-Term Rental Market Crashing?
---

The Airbnb collapse is real.

Revenues are down nearly 50% in cities like Phoenix and Austin.

Watch out for a wave of forced selling from Airbnb owners later this year in the areas hit hardest by the revenue collapse. pic.twitter.com/xjGkj7bFC5
— Nick Gerli (@nickgerli1)

June 27, 2023
---
A first glance at Gerli's tweet may strike fear in any short-term real estate investor's heart. Reventure's analysis of data from AllTheRooms shows 15 popular vacation spots supposedly dropping in revenue per available room (RevPAL) by 35-48% between May 2022 and May 2023. His list included: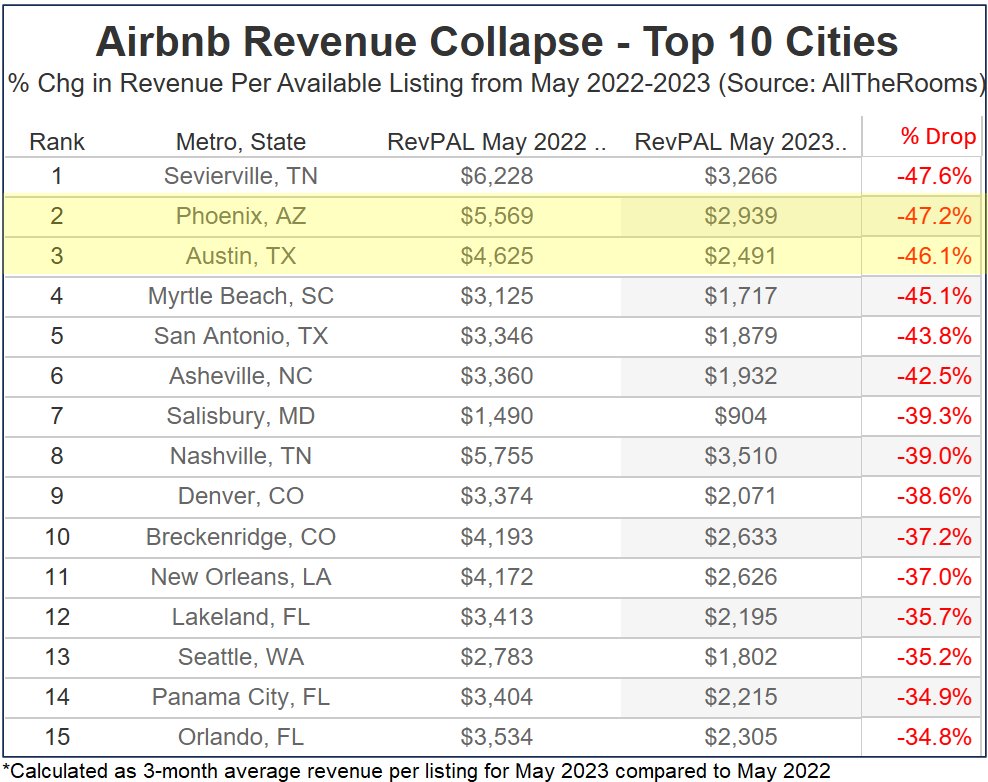 Sevierville, Tennessee: -47.6%
Phoenix, Arizona: -47.2%
Austin, Texas: -46.1%
Myrtle Beach, South Carolina: -45.1%
San Antonio, Texas: -43.8%
Asheville, North Carolina: -42.5%
Salisbury, Maryland: -39.3%
Nashville, Tennessee: -39.0%
Denver, Colorado: -38.6%
Breckenridge, Colorado: -37.2%
New Orleans, Louisiana: -37.0%
Lakeland, Florida: -35.7%
Seattle, Washington: -35.2%
Panama City, Florida: -34.9%
Orlando, Florida: -34.8%
Gerli's tweet quickly went viral as investors bemoaned the state of the short-term rental market. Some, however, began to question his analysis. After all, Reventure's percentages didn't align with other data sources reporting a much smaller market decline.
For example, Reventure's analysis showed Sevierville's RevPAL dropping by 47.6%, but STR Insights shows a decline of only 2.5%. Similarly, Reventure reports a 37.1% decline in New Orleans, while AirDNA shows a 1.2% dip.
Airbnb also spoke out, saying Reventure's numbers didn't align with theirs. "As we said during our first-quarter earnings, more guests are traveling on Airbnb than ever before, with nights and experiences booked growing 19% in the first quarter of 2023 compared to a year ago," says Airbnb spokesperson Sam Randall.
Is the short-term rental market headed for a crash? Probably not. More likely, it's going through a revision after the high short-term rental revenues of 2021-2022.
Short-Term Rental Market Trends Investors Should Know About
Although a short-term rental crash isn't on the horizon, there are a few concerning market shifts. But it's not all bad news. Here are several short-term rental market trends investors should know as they hunt for their next property.
Decline in Occupancy Rates
Investors flocked to the short-term rental market when they saw the boom of 2021-2022. And as it got harder to sell homes, many homeowners decided to list their houses on vacation rental sites like Airbnb. As a result, the number of short-term rental properties on the market increased by almost 30% between early 2021 and September 2022.
As more short-term rentals hit the market, competition increased. And in some areas, demand has yet to keep up with supply, leading to decreased occupancy rates. Some property managers struggled to book their rentals around the July 4th holiday this year.
Remember that nationwide averages don't reveal what's happening in specific markets. And in many key areas, occupancy rates remain high. With some research, investors can still find profitable markets for their next property.
Flat Average Daily Rates
Once again, due to higher competition, average daily rates (ADRs) have stopped growing as some property managers have had to lower their prices to keep properties booked. Year-over-year ADRs steadily increased from 2020 to 2022, but prices have begun to fall since then. In May 2023, year-over-year ADRs remained flat for Airbnb at $168.
Once again, ADRs can vary from market to market, so it's a good idea to research current and past ADRs in a specific area before buying a new property.
High Inflation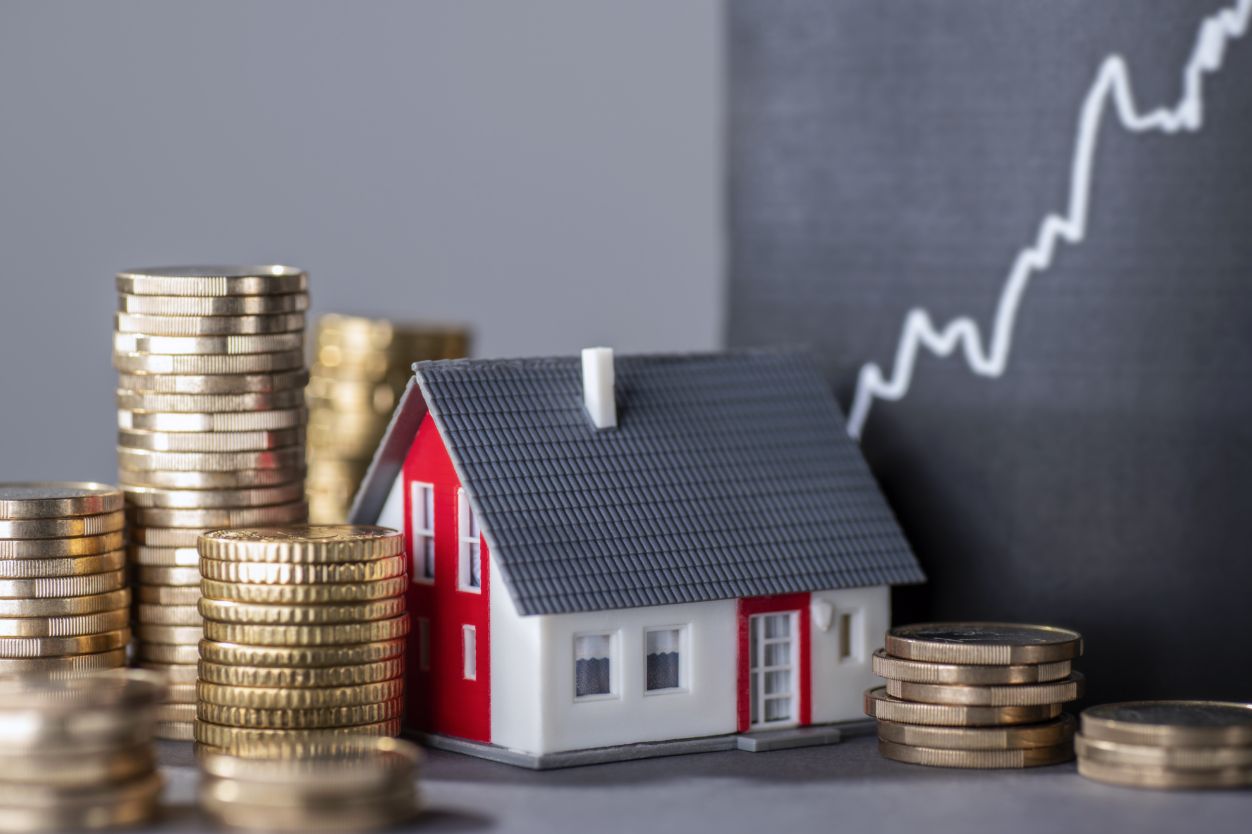 The economy hasn't been kind to the short-term rental market either. Inflation in the U.S. peaked at 9% in June 2022. Fortunately, it's been slowly decreasing since then, but travelers and investors alike are still feeling the effects. A higher cost of living means many people have less money to spend on travel, and short-term rental owners may see less profit as they pay more to maintain their properties.
New STR Regulations
One of short-term real estate investors' most significant challenges is navigating local regulations. County and city ordinances can quickly shift, and if investors have properties in multiple markets, it can be hard to keep up with these changes.
After the pandemic's short-term rental boom, some cities began to worry about the rights of local homeowners. In response, some local governments have tightened restrictions for short-term rentals.
For example, Honolulu has banned rental stays under 90 days, and Aspen, Colorado, has imposed new taxes for short-term rental owners. The resort town of Coeur d'Alene, Idaho, has paused all new short-term rental applications for 2023. And Dauphin Island, Alabama, has rewritten its zoning code to restrict short-term rentals in residential areas.
Before purchasing a rental property, it's crucial to research that area's short-term rental laws—and check if any new regulations have been proposed.
Growing Short-Term Rental Market
Despite these challenges, the short-term rental market is continuing to grow. Thanks to ever-increasing demand, it's expected to represent more than $222.8 billion by 2030. Even though competition has increased, short-term rentals still attract many vacationers and traveling workers who would rather stay in a home than a hotel. Analysts expect demand to keep growing as new technology and online platforms make booking short-term stays easier.
Increase in Remote Work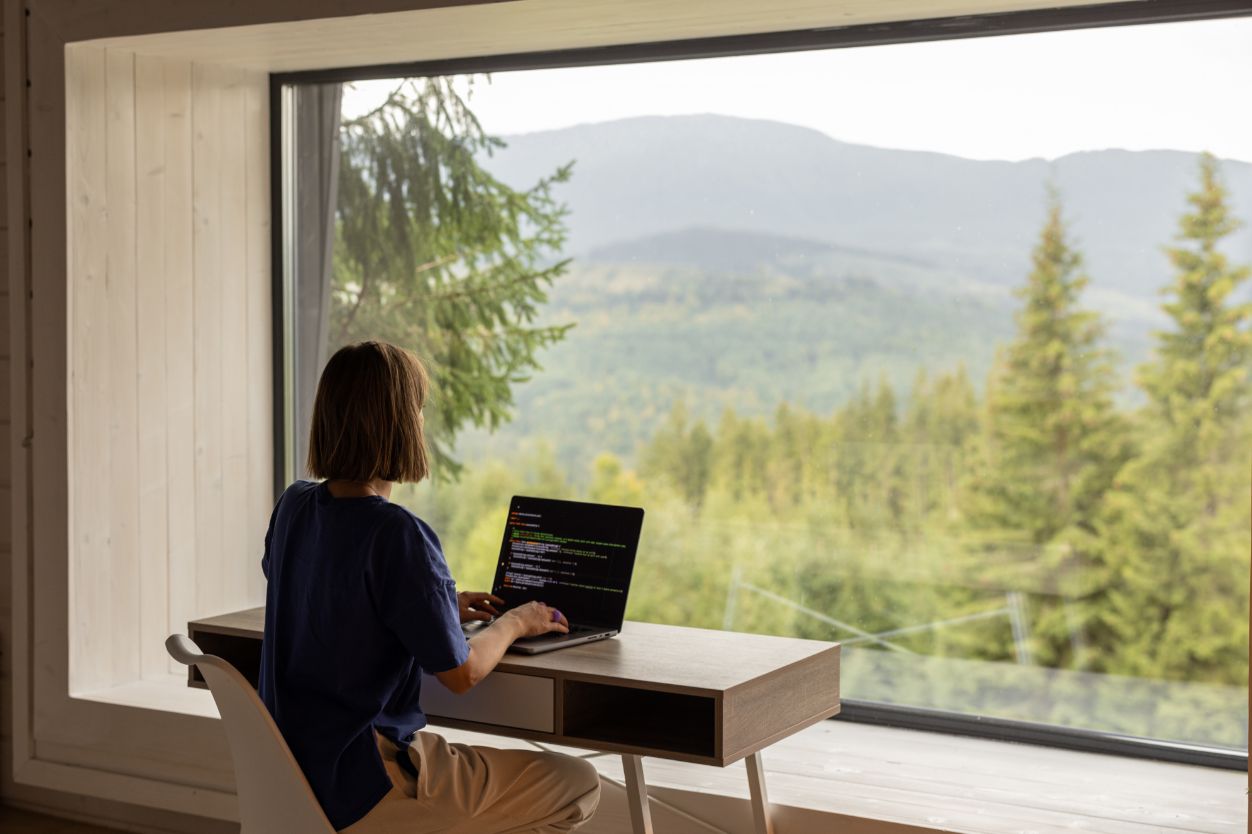 One of the reasons experts believe the short-term rental market is here to stay is that remote work is still on the rise. During the pandemic, many office employees were forced to work from home due to lockdowns. And when quarantines ended, a large number of workers didn't want to return to the office, forcing companies to evolve and include remote work—or at least a hybrid schedule—in their permanent policies.
Whether professionals have to travel for work or remote employees simply want a change in scenery, short-term rentals remain an easy way to meet that need.
How Investors Can Make the Most of This Market
No matter how well the market is doing, there are several things investors can do to set themselves up for success, such as setting competitive rates, keeping a flexible cancellation policy, and focusing on customer service to get as many five-star reviews as possible.
But even these habits aren't enough if you choose the wrong property. With today's high home prices, finding deals that allow you to stay profitable is important. You can use real estate data software to thoroughly research the local market comps and find deals on properties for sale.
With PropStream, for example, you can easily use Quick Lists and search filters to find motivated sellers and off-market properties, including pre-foreclosures and pre-probate homes. PropStream also allows you to use comprehensive market comps to evaluate your subject property.
Find your next short-term rental property with PropStream and discover why PropStream is the number one real estate investment software with a 7-day free trial!