For real estate agents, social media is a powerful lead-generation tool.
It's fast, visual, and a direct connection to an entire network of potential clients. That's why it's so important to learn how to use social media for real estate in a strategic, effective way.
In this post, we're covering the top tips for crafting an effective social media marketing strategy as a real estate agent.
Dial in Your Audience
Your audience will be more likely to connect with you if you consider their interests from the beginning and tie that directly into your passion for real estate.
Before you start posting, make sure you have a solid grasp of who your social media feed is intended for and cater your posts to these users. Having a clear idea of who you want to reach or attract to your page will help you create the best possible content that stays relevant to you and the brand you want to create.
With each social media post, keep these steps in mind:
Ask yourself who your ideal clients are. What are their wants and needs? What obstacles are they facing in their property search? What do they need to know?
Lean on your previous client successes to assess what your clients struggle with and how you were able to help.
Recall their questions and concerns—chances are, other potential clients will have similar questions, too.
Use these learnings to discover what real estate content will be useful and even irresistible to your prospective clients.
Research trends and popular hashtags to incorporate into your content to stay top of mind and relevant
Not only does focusing on one clear demographic help you become a pro in your niche, but it will help you build credibility and attract new clients.
Refine Your Brand
Everything from your profile photo to your bio to your captions should follow the brand you create for yourself, as you want one cohesive personality and voice online.
Having a professional brand is a must for real estate marketing, so you may want to invest a little bit in each of the below brand components.
Professional Photos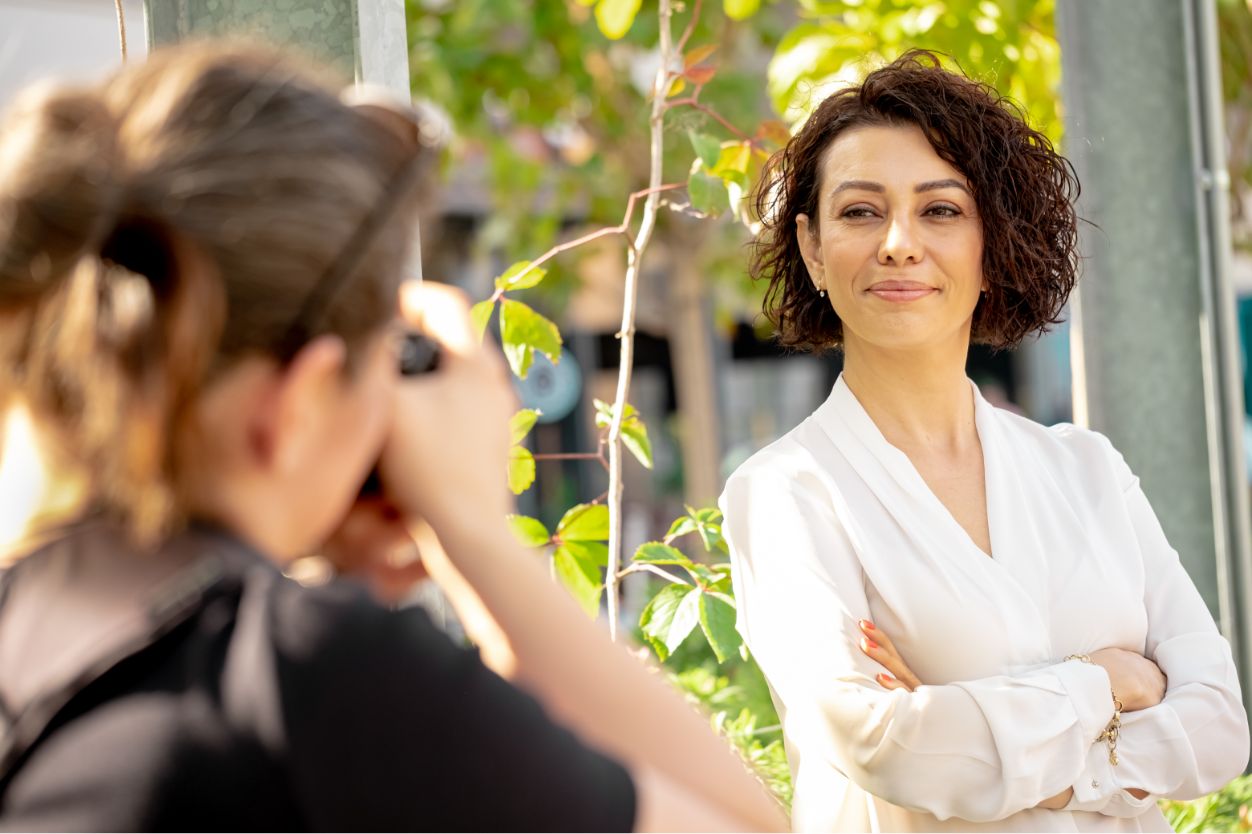 For starters, you'll want to invest in a professional headshot.
Selfies are not adequate for representing yourself and your brand, as you'll notice that your competition likely has professional photos.
Killer Logo
If you're not the most artistic person, you may also find it beneficial to work with a freelance graphic designer to get a professional logo. If you do consider yourself an artist, feel free to try something like Canva to create your own logo for free!
Remember, once you choose a logo, you'll want to use this logo everywhere you advertise your services. So, don't rush into using a design you don't absolutely love.
Before you design a logo or pay a designer to create one for you, you should also consider the color scheme you want to use for each post moving forward. To create an eye-catching, aesthetically pleasing page, you'll find it helpful to stick to the same few colors when posting infographics, testimonial creatives, etc.
Make Sure Users Can Contact You
Once you've decided on a brand logo, you've invested in some professional headshots, and you know the angle you want to take with your voice, make sure your contact information (business address, phone number, email address) is easily accessible.
It should, at minimum, be in each social media bio; however, you may even want to plug it into your posts at the bottom so users who stumble across your content can easily contact you.
Optimize Your Social Media Platforms
In the digital age, real estate marketing is much more convenient as you don't have to be everywhere all the time.
That said, you do want to take advantage of this marketing shift by showing up for as many potential prospects as possible. How can you ensure you're in the conversation and being seen by relevant social media users? You need to optimize your social media profiles!
Here's how you can optimize your social media profiles in 4 easy steps:
1. Choosing a Business Profile Vs a Personal Profile
Most social media platforms recognize that social media is a great resource for business and marketing.
Because of this, you can typically choose between a personal or a business profile. If you have the option, see if choosing a business profile is right for you, as there are often additional features that you don't get with a personal profile.
For example, with a business profile, you can use metrics and pay to boost content. The downside is that sometimes business profiles may not offer the widest coverage compared with a personal account.
Having a business account and the data it comes with will help you decide which post types perform best, allowing you to decide more easily on angles for new content. Also, with business profiles, you can create ads out of your content to reach a larger audience.
With social media advertising, you don't need to spend a fortune to reach more people. You can start with just a few dollars and work your way up as you have additional marketing funds.
Tip: If you do any other lead generation strategies, like create lead lists in PropStream, you can import your target's email address into your ad account to target those leads on social media.
2. Pick a Great Social Media Name/Handle
Make sure you can claim a username or handle that's somewhat easy to read and search.
For example, you don't want a complex name like "genevieve1968465." Finding a handle that's both catchy and relevant to you and your brand may take some time, but this time spent will be worth it. This name is what you're creating your brand around and what users will likely use to search for your profile, so choose wisely.
Tip: Keep in mind that some platforms will not let you change a social media handle after setting one. Unless you start an entirely new profile, you may be stuck with the first one you choose. So, make sure you can change it if you want to quickly set up a profile and then put more consideration into it later.
3. Claim That Name on Each Social Media Platform You Intend to Use
Once you've found a social media handle you're happy with, you may want to hop onto other social media platforms and claim that name or one as close as possible to it.
Even if you don't plan on building all of your social channels at once, claiming your preferred name will ensure your other channels are ready once you want to use them.
4. Optimize Your Bios
Many social media platforms offer limited character space for your bio.
So, you'll want to make that space count. You should always have contact information in your bio and relevant industry keywords. As an agent, it would also be wise to include the location you offer your services as well.
You might notice a links page or LinkTree service on other profiles. This mini landing page allows you to have more content on your profile, and you can use it as an overview of all your offerings.
Focus on Connection
You must keep the "social" in social media for real estate. If you don't want people to scroll right past you, you'll need to talk with them, not at them.
As a real estate professional, you probably have a better-than-average knack for working with people. Leverage those skills!
One way to get users to engage with your content is by asking questions or creating polls. For example, if you post a gallery of listing photos from one of your properties, ask users which room is their favorite. Or, create a poll asking users if they would prefer to live on a lake, have a pool, be in the woods, or live on a farm.
The more engagement you get on your content, the more that content will be shared to other pages without paying for advertising.
Create Useful Content
If all you post are links to open houses, you're missing out on a big opportunity to showcase your expertise, build credibility, and educate your audience so they have the confidence to dive into a real estate transaction.
Here are ten ideas for creating useful real estate content:
Highlight

news articles

that pertain to the real estate market in your location.
Share fun facts about current real estate market trends
Offer your best advice on buying and selling real estate (e.g., staging, negotiating, hacks)
Debunk myths about the real estate industry or processes within a transaction
Create well-designed infographics to help simplify complex topics
Go live and interview other experts in your industry
Share client testimonials and/or photos from a closing
Take your followers on a virtual tour of your listing
Share before and after photos from a property you've staged
Shine a spotlight on local small businesses
Tip: While it is fun to incorporate the latest trends to get more views, ensure that trend is in-line with your brand. Some content creators incorporate trends that actually negatively impact their brand and viewership and, in some cases, create backlash. Remember there will always be a new trend. Focus on being true to yourself and adding value for your followers.
Cater Your Content For Each Platform
When content influencing is not your full-time gig, it can be tempting to create one generic post and share it across all of your social channels. However, this isn't always the best approach.
Each social channel has varied trends, features, and demographics. For example, when people log into LinkedIn, they look for more professional content. When someone opens up TikTok, they are often looking for a laugh or a quick, fun tip or hack.
If you try to use the same message on every platform, you may perform well on one platform but not on the others. If you're going to take the time to post on a platform, you'll find it best to match the tone of that platform for maximum attention and engagement.
Tip: Don't feel like you have to be everywhere simultaneously. While you might have handles on multiple platforms, try focusing on the ones that work for your specific business model the best.
Consider Building a Social Media Team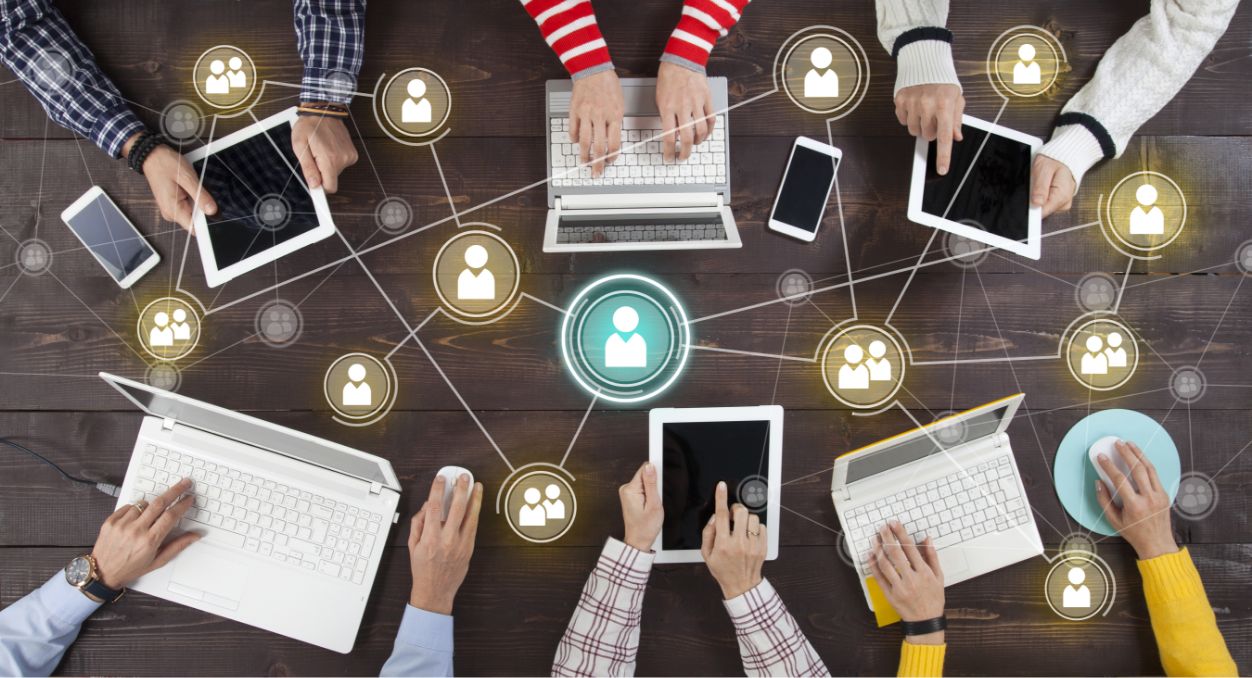 Creating and maintaining a social media presence and brand can be hard work. But, you don't have to go it alone.
If you already have a solid real estate career under your belt but you want to take your business to the next level, you may find it's time to invest in building a social media team. If you're part of a real estate team already, it may be as simple as asking colleagues to hold the phone and record your Q&As while you return the favor.
Want to go viral on social media and become a local icon? There are a variety of pros who can help you level up your social channels. Here are a few ideas for outsourcing your social media efforts:
Videographer: If you want high-quality videos when you tour a property, answer questions, or interview local experts, a videographer can not only record your video but edit it as well.
Copywriter: If wordsmithing isn't your thing and creating killer captions seems like a daunting feat, work with a freelance copywriter.
Virtual assistant: Engaging with your followers and other users is crucial for building relationships online. If you don't have time to reply back to comments and messages, a virtual assistant may be able to help while you pursue in-person leads.
Real estate photographer: The quality of the property photos you share on social can either send buyers running to your inbox or scrolling right past them. A professional real estate photographer can take dozens of photos of a listing and make even the most underwhelming properties look like they belong in a magazine.
Social media manager: Maybe you don't have time to mess with the posting schedule, communicate with the freelancers we mentioned above, or stay on top of current trends. That's okay; a social media manager would happily run your channels for you.
How Will You Use Social Media to Boost Your Real Estate Business?
In today's world, social media isn't just a place to connect with friends or share vacation photos.
It's also a powerful business tool that enables you to expand your reach through your marketing efforts. When used strategically, social media can help you develop your brand, build a network, and create trust in yourself and your services.
Want to learn more about marketing as a real estate agent? Attend Lunch and Listings, our live, interactive webinar on Wednesdays at noon!