All 50 states require real estate agents to work under a licensed real estate broker, and most agents are perfectly happy with this arrangement. A 2018 study of more than 500 real estate agents found that 96% were satisfied with their current jobs. And 94% planned to stay with their brokerage for at least the next year.
But what makes a brokerage a good place to work? With so many different ways to structure a brokerage, agent satisfaction is often about finding the right fit.
In this article, we will look at how brokerages are structured and which factors best suit different working styles.
The Basics of Brokerage Structures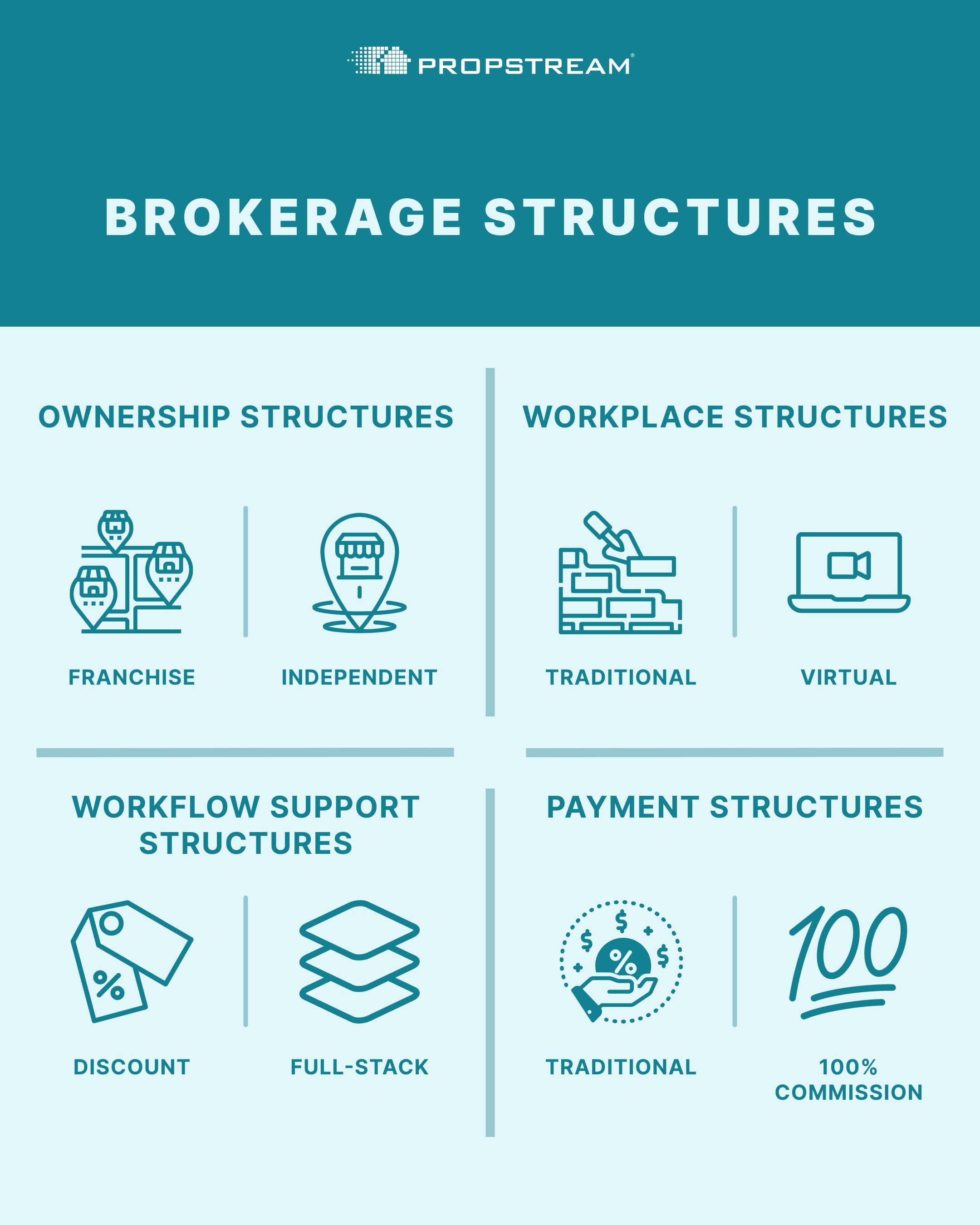 To understand brokerages as a whole, it helps to understand how all the parts of a brokerage fit together. Brokerage structures can be complex because brokers can combine several different factors to create a niche structure that works for them and their agents. Elements of brokerage structures include:
Ownership structure: Will the brokerage be a franchise or owned independently?
Workplace structure: Will agents work from a traditional brick-and-mortar office or will the brokerage be virtual?
Workflow support structure: Will resources to support agents be limited, as with a discount brokerage, or robust, as with a full-stack brokerage?
Payment structure: Will the agents split their commission with the brokerage or keep 100%?
Whether you're an agent choosing a broker or a broker looking to build a desirable brokerage, here's what you need to know about each element:
Ownership Structure: Franchise Brokerages vs. Independent Brokerages
Franchise brokerages allow brokers to license the name and image of a recognized real estate company. Examples of franchise brokerages include Century 21, RE/MAX, and Coldwell Banker. These franchisors own trademarks, intellectual property, and business systems. Brokerages can use them by paying franchise fees.
Independent brokerages are not affiliated with nationwide chains. These brokerages are usually locally owned and managed. The broker/owner maintains control over business operations. Small independent brokerages are often called "boutique brokerages." One example of an independent, boutique brokerage is The Oppenheim Group. You may have seen this brokerage on Netflix's "Selling Sunset" reality show.
The benefits of franchises over independent brokerages include:
Well-established business systems and resources

Standardized training for new agents

Built-in referral networks

Nationwide name recognition
Meanwhile, independent brokerages have several benefits over franchise brokerages, such as:
The flexibility to operate in a way that suits the unique brokerage

Local roots, which may garner more trust from the community than nationwide chains

More room to experiment, which can lead to better results
When choosing a brokerage type, consider your professional values and the environment/support you need to excel in your real estate career path.
Workplace Structure: Traditional Brokerages vs. Virtual Brokerages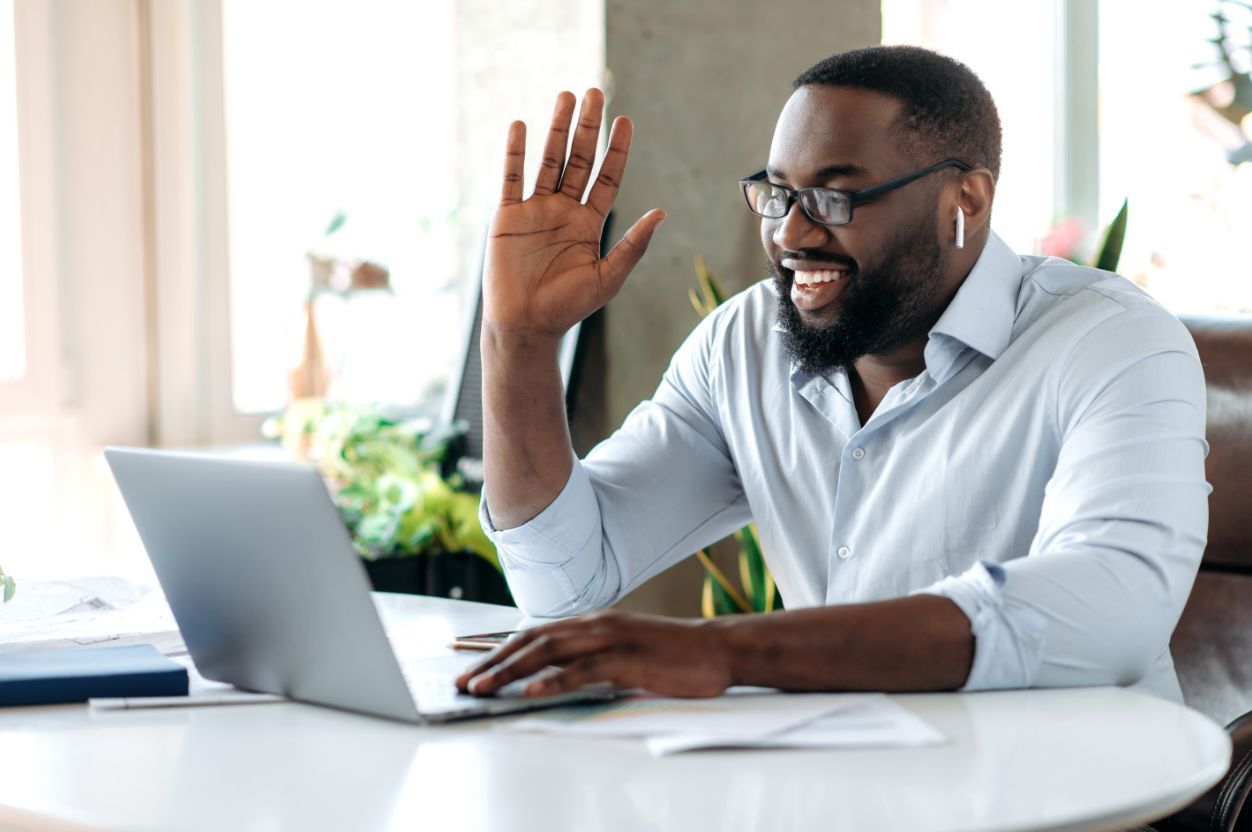 Traditional brokerages operate from brick-and-mortar buildings. They emphasize face-to-face support for agents and clients. In most cases, agents have to come into the office. They may even hold office hours for walk-in traffic.
Virtual brokerages often have no physical office space. Instead, they allow agents to work from home and meet clients at properties instead of the office. Some are even pushing virtual house showings rather than in-person home tours. One of the first well-known virtual brokerages is eXp Realty. Agents at eXp work entirely online and in the field with no brokerage-paid office space.
Brokerages can also operate in a hybrid format. Hybrids combine a reliance on technology with flexible office space options.
Whether you choose a traditional brokerage, virtual brokerage, or hybrid depends on your working style. Traditional brokerages work best for agents who appreciate a strong network and who like to connect with colleagues face to face. Virtual brokerages work best for agents who prefer to work independently. And hybrids offer flexibility since brokerages can decide how much they're willing to work virtually.
Workflow Support Structure: Discount Brokerages vs. Full-Stack Brokerages
Discount brokerages attempt to reduce costs for home sellers by offering fewer resources to their agents. Full-stack brokerages, meanwhile, aim to make their agents more efficient by offering additional resources on a consolidated platform.
Discount brokerages either reduce the services offered or allow sellers to choose from an a-la-carte menu. They'll typically charge a flat listing fee for sellers to list their homes on the local MLS (multiple listing service). But this price doesn't include traditional services like marketing, photography, or help with contracts.
On the other end of the spectrum, full-stack brokerages offer extra services to their agents. These services might help agents manage customers, personalize marketing materials, track transactions, and complete ongoing real estate training. This setup eliminates the need for agents to hire third-party providers.
Agents generally have little to gain with a discount brokerage. The only real advantage is that discount agents can charge sellers flat fees. The agent earns these fees regardless of whether the house sells. This type of arrangement may suit a more established agent that prefers using their own workflow structures.
The primary benefit of full-stack brokerages is their comprehensive operational systems. Agents may pay a higher commission split to the brokerage for this access. However, since they don't have to pay for subscriptions to multiple service providers, this usually offsets the extra expense. This may be a good consideration if you are just starting or you prefer to have these services readily available to you as an agent.
Payment Structure: Traditional Commission vs. 100% Commission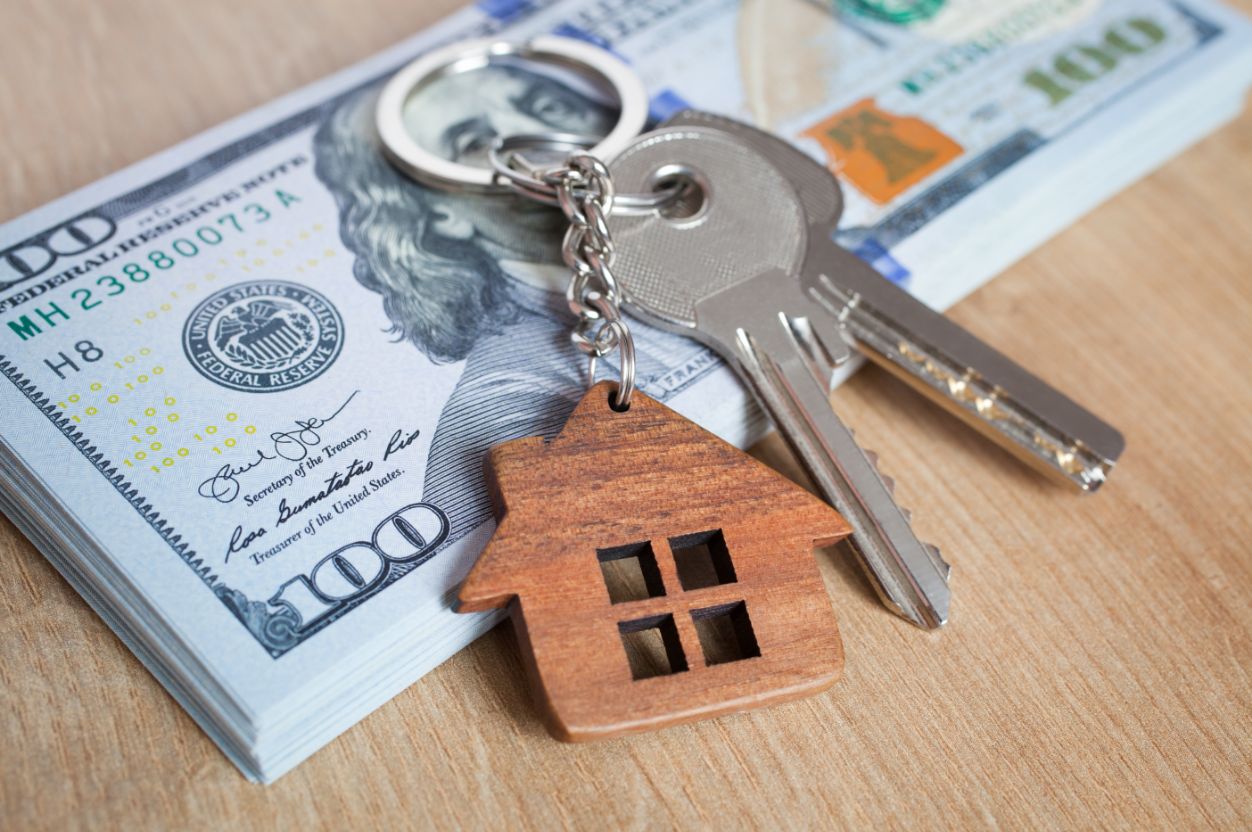 Besides the different business structures offered by brokerages, payment structures also vary.
Real estate agents usually don't earn hourly wages or annual salaries. Regardless of the payment model, agents are generally paid for their results rather than their time. The most common brokerage payment structures are traditional commission and 100% commission.
In a traditional commission structure, the seller's brokerage earns a commission on each sale. The seller's brokerage then splits the commission with the buyer's brokerage (usually 50-50). Each brokerage splits this commission with its respective agents. The commission rate and commission splits are negotiable. For example, the seller might agree to pay 6% of the sales price for real estate agent fees, which would give 3% to the buyer's brokerage and 3% to the seller's brokerage. If you're the buyer's agent, and you have a 50-50 split with your broker, you would get 1.5% of the sales price. This is the most common payment model today.
In a 100% commission payment structure, the agent doesn't split the commission with the broker. If, for example, the seller agrees to a 6% commission, the seller's brokerage still splits the commission with the buyer's brokerage, giving each brokerage 3%. But then, if you're a buyer's agent at a 100% commission brokerage, you don't have to split that 3% with your broker. In exchange for the 100% commission, agents pay monthly fees to the brokerage. This works well for experienced agents with established client bases. New agents who don't have deals in the pipeline could pay monthly brokerage fees without receiving any income.
How to Choose the Best Brokerage Structure for You
Brokerages can mix and match components of the structural elements we've just covered. The ownership, workplace, workflow support, and payment structures all play a critical role in determining how successful you'll be in your brokerage.

When you're deciding on the best brokerage structure for you, take time to consider each element. Aligning each piece with your working style will ensure a solid match and a happy relationship with your brokerage.