You've just dropped hundreds of dollars on a postcard marketing campaign, only to get one or two nibbles that didn't turn out to be the most promising leads.
As a real estate agent using postcards to reach out to prospects, it's tempting to blanket entire neighborhoods with them. However, while good for building brand awareness in your community, this tactic may cost you much more money than necessary.
Instead, you may want to target your postcards, so you're sending out fewer postcards only to homeowners with the highest likelihood of becoming clients.
So, how do you launch the most successful real estate postcard marketing campaign? In this article, we'll discuss how you can use PropStream to farm for the best leads, why strategic farming is important, and most importantly, how you can use postcard marketing to get your next listing!
Keep reading to learn more.
Farm an Area for the Best Leads Using PropStream
If you haven't heard of "farming" in real estate, it's a marketing tactic agents use to find the best potential leads in a specific geographic location.
PropStream's search capabilities make farming quick and easy. To start farming with PropStream, all you have to do is type your desired region into the search bar. You can search by county, city, zip code (search up to five zip codes), or APN.
To target your search even more, you can even use our Draw Tool to look up a specific neighborhood or street!
Once you've decided on a search region you want to target, you can begin finding leads with the highest chance of listing with you. To find these leads, we offer 19 Quick Lists, designed to show you homeowners in situations that suggest they may be motivated to sell (e.g., divorce, pre-foreclosure, pre-probate, bankruptcy, etc.). In addition to these Quick Lists, you can stack our other filters to find properties with specific characteristics, equity percentages, ownership details, and more.
Once you've farmed your area of choice and discovered some motivated seller leads, you can organize them into marketing lists so you can easily find them once you're ready to send your postcards.
Why Should You Farm an Area Before Sending a Postcard Blast?
We mentioned earlier that targeting your postcard marketing approach is crucial for cutting down on your cost of materials, but let's discuss why a little more in-depth.
When you send postcards to an extremely broad demographic, you're paying for double, maybe even triple, the number of postcards you need. If you're not strategizing who you're sending your postcards to, you could potentially be sending postcards to people with low selling motivation, like someone who just moved into a new home or someone with a fixed, lower interest rate who wouldn't want to sell because that would mean taking on a new loan with higher interest rates.
These homeowners will likely throw a postcard in the trash if they receive it. Since they don't need to sell now or even in the near future, why would they hang onto extra papers that just clutter up their home?
This method can lead to an abundance of wasted money and energy.
Instead, you should be strategic with who you send postcards to. When you cater a postcard marketing campaign to homeowners who are currently motivated to sell or who may be soon, you're increasing the potential ROI (return on investment) for what you're paying to send postcards.
How to Use Real Estate Postcard Marketing Effectively
You now know how to narrow down your marketing list and why it's important to do so. Great!
Now, let's talk about the best use case for postcards for real estate agents.
Make a Big Impression Right Away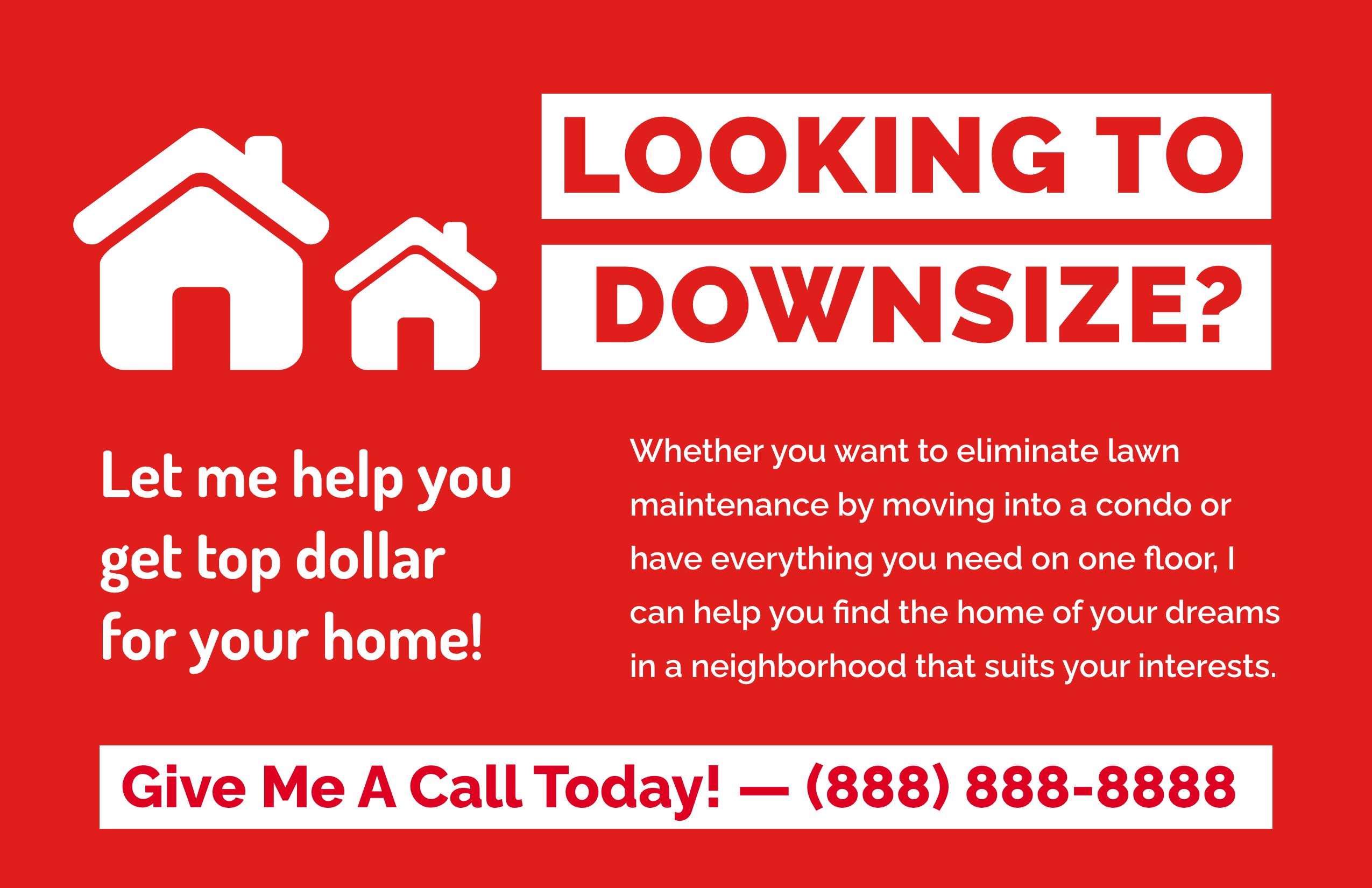 One benefit of sending postcards is that you can design them and cater your message to the demographics you're sending your postcard to. You don't have to just send one generic postcard with general business and contact information to all of your prospects.
Because of this, you may want to consider creating unique postcards that resonate with homeowners based on their selling motivation. To do this, hone in on that homeowner's pain point and make that the first line on the postcard they notice.
For example, if you're targeting senior homeowners, you may want to start with a line that says:
Looking to downsize? Let me help you get top dollar for your home!
For many senior homeowners, once all of their kids have moved out of the house, they may want to find a smaller home, so there's less to clean and maintain.
From there, you can elaborate on the original pain point you mentioned with a subtitle like:
Whether you want to eliminate lawn maintenance by moving into a condo or have everything you need on one floor, I can help you find the home of your dreams in a neighborhood that suits your interests.
Give me a call today!
(XXX) XXX-XXXX
This subtitle may resonate with senior homeowners because physical limitations may push them to want to live in a ranch-style home rather than a home with several flights of stairs. They may even want to live near other retirees if they live currently live in a mixed-age community.
In addition to your pitch, you may also want to include a professional headshot, your name, email address, and logo (for branding purposes) on the postcard.
Pro Tip: With PropStream, you can use our professionally-designed templates to save time, or start from a blank template and unleash your inner artist!
Use a Marketing Sequence With Various Materials
Even though you've developed a killer postcard design/strategy, you shouldn't just use one outreach method.
Once you've put all the time and effort into building marketing lists with great selling leads, you'll want to continue to be strategic with how you reach out. After all, this is the part of the process that will seal the deal and turn a lead into a listing.
So, rather than just sending postcards out, consider creating a marketing sequence and incorporating some other methods into your outreach, like
Email
Texting
Cold calling
Reaching out on social media
Mixing up marketing materials can be beneficial because every person has their own communication preference. The last thing you want to do is find a great lead who would have listed with you, but they ignored the one marketing material you sent because it's not their preferred communication method.
How to Mix and Match Marketing Materials
The trick to mixing various marketing materials is starting with one and working your way down the line. For example, say you send out postcards to 50 leads. You may want to wait a week or so to allow time for the recipients to respond to the postcards.
If you hear back from some of these prospects, suggest continuing the conversation with them via phone call or an in-person meeting.
Even if you have a few prospects respond to your postcard push, you'll want to continue pursuing the leads who haven't reached back out in the meantime. After you've sent your postcard push, try using a different marketing method to reach those other leads you haven't heard back from.
In this scenario, let's say we chose email marketing as our second medium.
Consider sending emails to all the original prospects you sent postcards to who didn't respond. Repeat the same process you did with the postcards: set up a meeting to talk more with prospects who responded to your emails while making a plan for targeting the prospects who didn't via phone call or texting.
Keep working your way down the list of marketing methods, dwindling down the recipient pool until you've successfully landed the number of listings you're aiming for. Even if you haven't landed a sufficient number of listings from this mixed-material sequence, don't hesitate to reach out again in a way you've already used.
Attracting new clients is often about repetition and persistence until your actions yield results. Just make sure you're giving leads a little breathing room to respond to your materials and not coming off as too "pushy" by following up too soon.
Pro Tip: With PropStream, you can send postcards, emails, and skip trace homeowners to collect phone numbers and email addresses (Psst: Our skip tracing service even includes free Do Not Call list scrubbing to identify homeowners on the Do Not Call list!) all in one convenient location. Learn more about add-on marketing tool pricing here.
Start Creating Targeted Marketing Lists and Sending Postcards With PropStream Today!
When the proper research and planning are done before starting a postcard marketing campaign, it can be an incredibly effective way to get in touch with leads.
While blanketing entire communities with postcards can be great for brand awareness, it's not the most cost-effective way to get results or listings. Instead, consider targeting your approach to find the most motivated sellers, keep them bookmarked, and plan out a marketing sequence that involves various marketing materials to get their attention.
The key to landing listings is working smarter, not harder. Want to start finding motivated seller leads and planning your postcard marketing campaign?
You can do it all with PropStream! Try us out for 7 days free, and enjoy 50 leads on us.