Whether you're a real estate agent, investor, or another type of real estate professional, you may rely on software to track and automate your daily processes. But what is real estate software exactly? And what are its benefits?
In this article, we'll answer these questions and more so that you can make an informed decision about which real estate software is most helpful for your business model and which functions you need.
---
Table of Contents
---
Types of Real Estate Software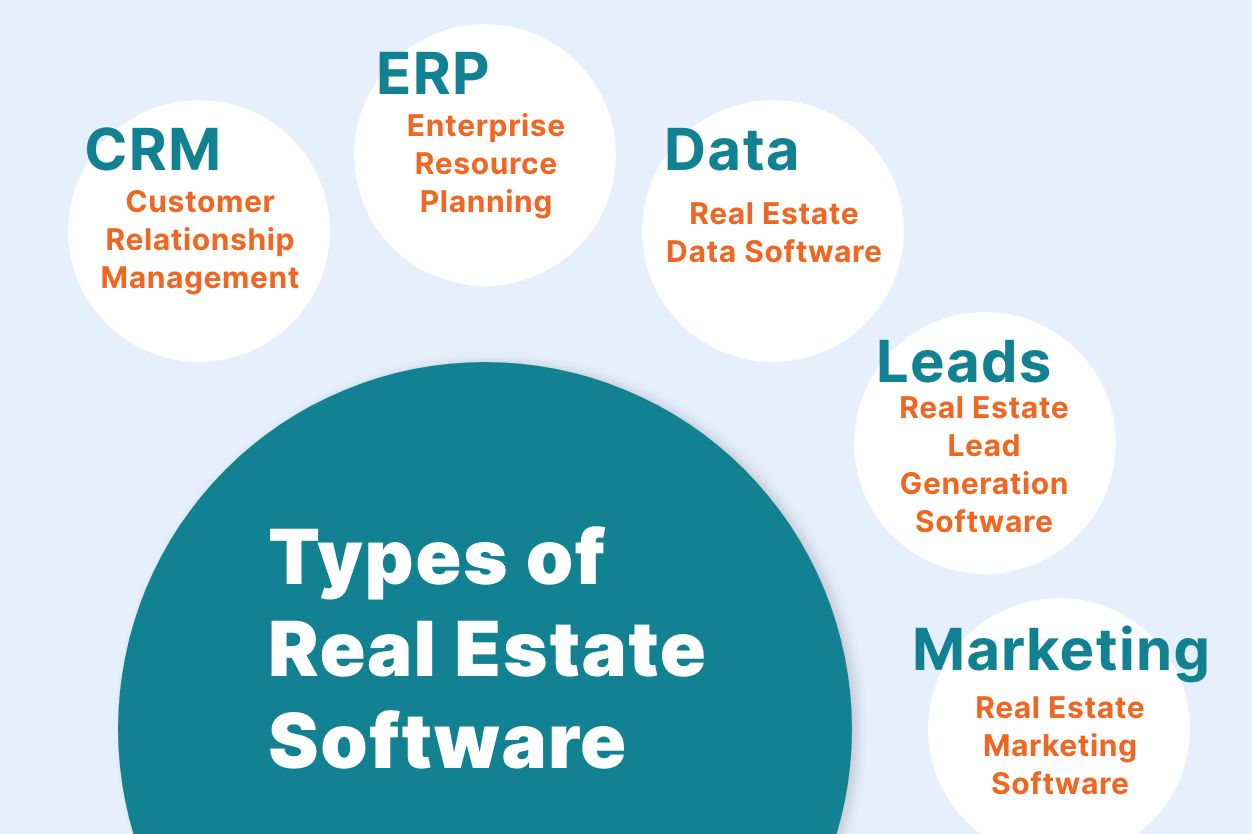 There are many different types of real estate software. Here are some common ones:
Real estate CRM (customer relationship management) software can help you manage and retain clients. For example, it might help you keep track of contact information, streamline invoices, or send automated messages.
Real estate ERP (enterprise resource planning) software can help you manage various property types. Common features include lease management and reporting capabilities.
Real estate data software can help you collect and analyze property data. For example, it may help you create lists of properties based on custom search criteria or identify market trends through heat maps.
Real estate lead generation software helps real estate professionals or businesses obtain leads in order to build a database of potential prospects to then convert into real customers. Real estate lead generation software is helpful for investors, agents, brokers, lenders, property managers, and more when it comes to identifying homeowners who may be interested in their services.
Real estate marketing software can help you attract and convert customers. For example, it may include an email marketing system or lead generation tools for finding seller leads.
You may also find that some platforms integrate multiple real estate software types into one solution, creating an even more powerful tool.
Benefits of Real Estate Software
Now that you have a basic understanding of the types of real estate software out there, let's go over some of the benefits they have to offer. Real estate software can help you:
Reduce costs (e.g., by helping you find better property deals or leads faster and with less effort).
Save time (e.g., by automating routine business tasks like skip tracing or market research).
Scale your business (e.g., by letting you upgrade your real estate software service plan as your business grows).
Maintain regulatory compliance (e.g., by helping ensure you meet local housing regulations).
Collaborate (e.g., by allowing multiple users to have access to the platform and providing real-time updates).
Keep data secure (e.g., by backing up real estate data across multiple servers in the cloud for easy recovery)
Make better business decisions (e.g., by giving detailed data on projected cash flow, ROI, and other important real estate metrics).
Ultimately, real estate software can be a powerful tool in your arsenal to help your business succeed.
The Future of Real Estate Software
As you might expect, the adoption of real estate software is on the rise.
According to Grand View Research, the global market for real estate software was valued at $9.34 billion in 2020. Between 2021 and 2028, it's expected to grow at a compound annual growth rate (CAGR) of 9.7%, reaching a forecasted revenue of $18.66 billion by 2028.
On a similar note, professional services network KPMG has recorded an increasing number of real estate companies embracing digital technology. According to its 2019 KPMG PropTech Survey, 58% of respondents have a digital strategy, up from 52% in both 2018 and 2017.
As for the barriers to further adoption of real estate software, the survey recorded the following reasons: unclear ROI (40%), digital not a priority (40%), lack of a designated person to drive the digital strategy (34%), and lack of appropriate in-house talent (27%).
However, the COVID-19 pandemic helped force many companies to overcome these barriers as the need for digital transformation was kicked into full gear. As a result, real estate software is in higher demand than ever before, and it continues to improve.
Some recent developments in real estate software include:
Cloud hosting

so users don't need to install and manage real estate software on-site and so they can more easily upgrade service plans.
Leveraging

machine learning

(ML) to organize and analyze huge amounts of real estate data on users' behalf.
Implementing

augmented reality

(AR) (e.g., to help create virtual home tours) or

smart contract

technology (e.g., to speed up real estate transactions).
The point is that now may be a good time to invest in real estate software to help your business thrive—today and into the future.
What to Look For In Real Estate Software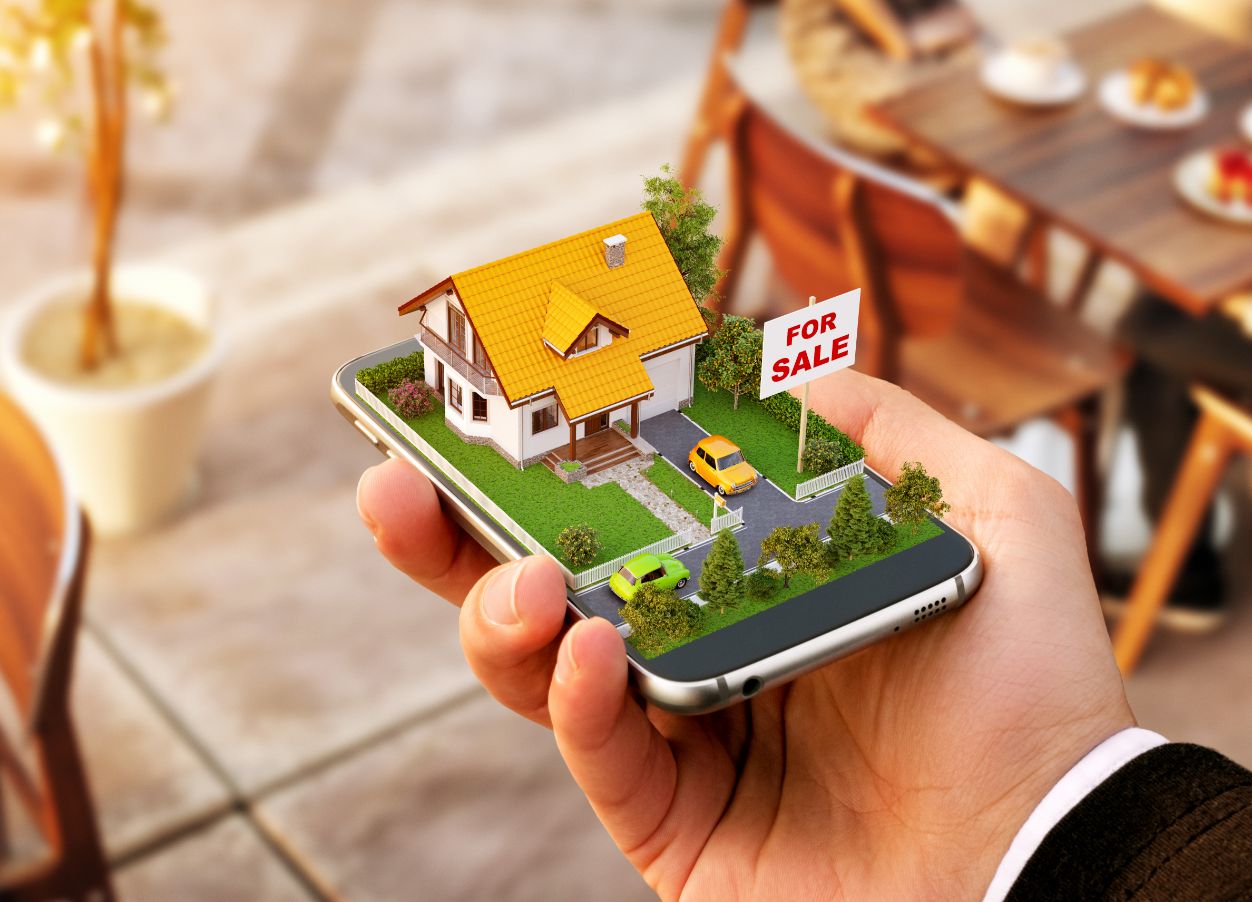 So what real estate software should you choose?
The answer to this question may depend on your specific needs, but here are some features to look for:
Automation can help streamline various real estate tasks, including lead list creation, collecting contact information, measuring potential ROI (return on investment) of deals, and more. It may also help automatically segment leads based on their status (e.g., buyer vs. seller leads). The more automation features a real estate software offers, the more time and money it may save you in the long run.
Reliable real estate data regarding property values, comparables (aka "comps"), and homeowner contact information can be invaluable. It may help ensure you don't waste time chasing cold leads or making inaccurate calculations. Real estate data may also include detailed market information, e.g., on demographics, school zones, and nearby businesses.
Deal analysis modules use sophisticated calculations and/or algorithms (compiling data points) to help you quickly analyze property deals. Instead of making calculations manually, you can get quick insights into whether a deal is worth your attention.
Compatibility across multiple devices lets you use the real estate software on a computer or mobile device. This makes it easier to work on the go and from remote locations with distributed teams.
Get an All-In-One Real Estate Software Solution
Fortunately, you don't need to look far for real estate software that offers many of the above features and benefits.
PropStream is a real estate software with lead-generating, data, and marketing capabilities that can help real estate professionals:
Access comprehensive nationwide data that is multi-sourced from county records, the multiple listing service (MLS), and private data sources.
Search properties by address, city, county, zip code, assessor parcel number (APN), or a map geo search.
Generate targeted leads using any combination of over 120 property search filters and 19 Quick Lists that you can save as custom lists.
Evaluate properties with accurate comps powered by up-to-date data from public recordings and local MLSs.
Contact property owners by phone or email with a built-in skip tracing feature that can scrub Do Not Call (DNC) List contacts for you.
Automate leads with List Automator, which scrubs lists for accuracy and alerts users of new leads that match search criteria and those that don't.
Create targeted marketing campaigns with emails, landing pages, and postcards.
Build a team by allowing login access to different team members and the ability to set permissions, assign properties, and more.
Estimate rehab costs with the Rehab Calculator tool to remove the guesswork from any renovation project.
Track market trends with a property heat map and analytics tools to detect hot spots and find properties that meet your objectives.
Work on the go via the mobile app, which lets you use many of PropStream's features from your phone or tablet.
If you want to use real estate software to take your business to the next level, consider giving PropStream a try with our 7-day free trial and enjoy 50 property leads on us!