According to the Bureau of Labor Statistics, the mean annual wage for the average American real estate broker is $81,450. Or, at least, it was as of May 2019, which is when the most recent data was compiled. Since then, housing markets nationwide have seen an increase in buyer activity. This increase is likely the result of:
Historically low interest rates intended to combat the economic impact of the COVID-19 recession

The desire of buyers to relocate into larger homes that are more conducive to life under quarantine

The ability of homeowners to live farther from work as many companies shift to the

work-from-home

model
The increase in buyers and low inventory have driven home prices up in much of the country. And since brokers are paid on commission, the higher prices mean higher commission checks for real estate brokers. So it's likely that brokers in 2021 are making more money than they did in 2019, despite the struggling economy.
Let's look at states where real estate brokers are earning the highest incomes, why those states pay better, and how top earners are finding sellers in the current sea of buyers.
States Where Real Estate Brokers Earn the Highest Incomes
Here are the top 10 states where real estate brokers earn the highest incomes. The annual mean wage is listed next to each state.


Source: U.S. Bureau of Labor Statistics
New Mexico — $112,860

Massachusetts — $109,140

California — 104,120

New York — $99,930

Washington, D.C. — $97,680

Texas — $95,150

Nevada — $93,850

Wisconsin — $93,400

Maryland — $92,540

Indiana — $89,720
You may be surprised to see New Mexico top the list when it's not known for high-value real estate. And then there's high-value Hawaii, which is not in the top 10. The most likely explanation in both cases is the number of real estate brokers working in each state compared to the population of the state. The Bureau of Labor Statistics calls this the location quotient.
A high location quotient — as in Hawaii — means there are more brokers, so there is less business to go around. A low location quotient — as in New Mexico — means there are fewer brokers, so there is more business for each broker. Here's a full map of location quotients across the U.S.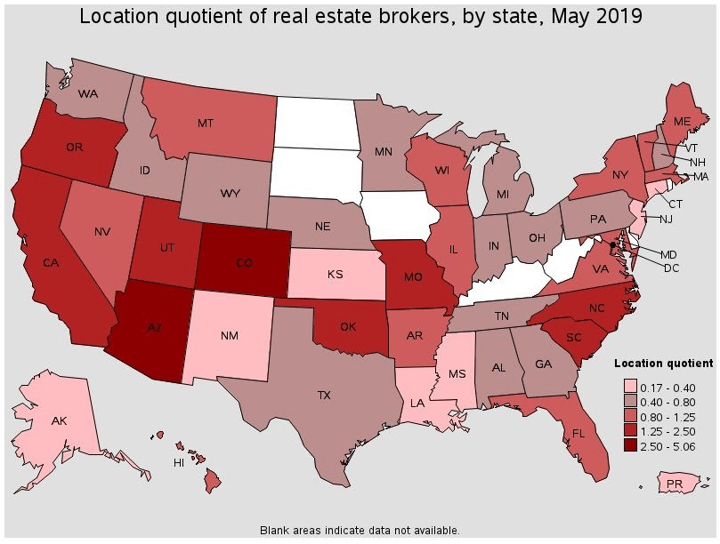 Source: U.S. Bureau of Labor Statistics
How Are Top Earners Finding Sellers?
Most of the country is in the grips of a hot seller's market as we enter the second quarter of 2021. Brokers have buyers, but they're struggling to get an offer accepted. The money in 2021 is in listings. Here's how top earners are finding sellers and increasing their income:
Search the market for likely sellers. PropStream's smart search tools allow you to filter by situations like distressed properties or owners with high equity. You can even generate a targeted leads list from this data so you have a list of homeowners to contact.
Automate your targeted leads list. PropStream's List Automator® automatically updates your leads list to add new properties that meet your criteria and remove old leads that no longer do.
Contact property owners by phone or email. While other brokers are sending mailers to these homeowners, you can use PropStream's built-in skip tracing feature to contact property owners directly via phone or email.
Whether your state is among the highest-paying states for real estate brokers or the lowest-paying, you can increase your income by finding motivated sellers with PropStream.