In this ever-evolving landscape, one tool stands as the compass guiding real estate professionals and property aficionados alike toward the treasure trove of accurate property valuations:
The art of running comparables.
---
If you haven't heard this phrase before, comparables, AKA "comps," is when you uncover a property's estimated value by studying historical data for similar properties.
---
Running comps is crucial for nearly any real estate pro. As an investor, you want to ensure a property can provide a worthwhile return. Who can blame you? As an agent, you want to ensure the most accurate property valuation as you help your client decide on a listing price and optimize your selling price. What better way to encourage repeat business?
The bottom line: Your time, money, and energy are precious as a real estate pro, so making the most educated decisions before diving headfirst into a new opportunity is essential.
But you may be asking yourself:
"How do I run comparables accurately and quickly?"
Two words: PropStream It!
---
"PropStream It!"
---
With PropStream, in just seconds, you can uncover an estimated value on your property of choice using local data from the public record, MLSs, or both. Additionally, PropStream allows you to:
Customize your search by comparing property aspects like square footage, year built, number of beds/baths, and more!
Select which comparable properties you want to add to your analysis in just a few clicks.
Browse specialized comps lists like bank-owned, high equity, vacant, etc., to uncover hidden selling motivations.
And so much more!
Learn How to Run Comps Like a Pro With the Help of Our PropStream Guru, Burton Alicando!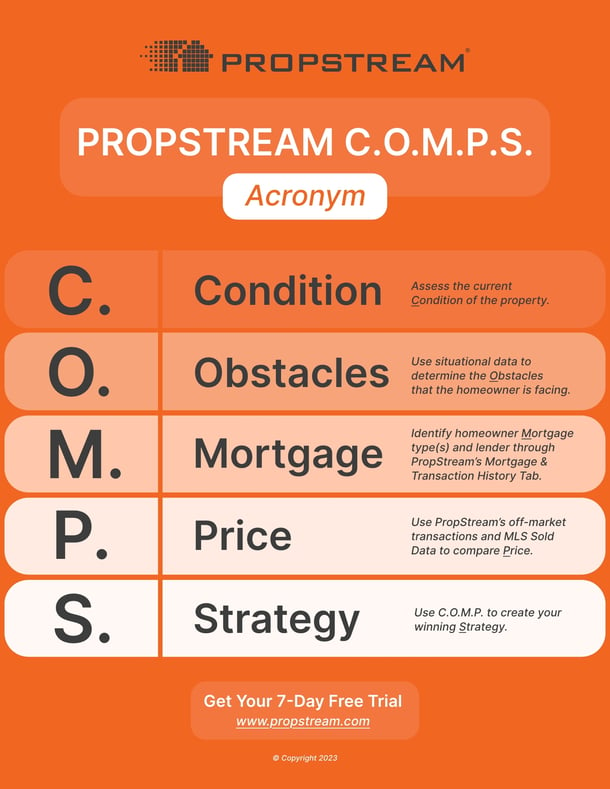 It's no secret that PropStream has the comping capabilities you need to find the best real estate opportunities. However, we want to ensure you have all the tips and tools in your back pocket to maximize these capabilities.
To help you learn the ins and outs of comping with PropStream, our Product Evangelist, Burton Alicando, will host a Live Webinar: The 5 Steps to Successful C.O.M.P.S., on September 5, 2023, at noon PST!
In this webinar, you'll learn:
Why comps are crucial in 2023
How to C.O.M.P.S. the PropStream way (along with a deep dive into PropStream's unique comping features)
How to import contact lists with List Automator
And so much more!
What are you waiting for? Your next opportunity is out there waiting for you! Join us on September 5 at noon PST to learn how to comp quickly and efficiently with PropStream. If you already have something planned that day, feel free to check out the recording over in our Academy after the webinar has happened.
---
Psst! Want to follow along with the webinar? Try our 7-day free trial!
---